India's 39th World Heritage Site: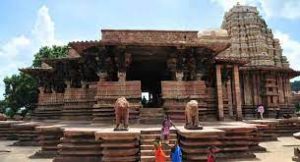 India's nomination of Rudreswara Temple, (also known as the Ramappa Temple) at Palampet, Mulugu district, near Warangal in the state of Telangana has been inscribed on UNESCO's World Heritage list. This is India's 39th World Heritage Site.
The decision was taken at the 44th session of the World Heritage Committee of UNESCO today.
Ramappa temple, a 13th century engineering marvel is named after its architect, Ramappa.
The Rudreswara temple was constructed in 1213 AD during the reign of the Kakatiya Empire by RecharlaRudra, a general of Kakatiya king Ganapati Deva.
The presiding deity here is Ramalingeswara Swamy.
The temple complexes of Kakatiyas have a distinct style, technology and decoration exhibiting the influence of the Kakatiyan sculptor.
The foundation is built with the "sandbox technique", the flooring is granite and the pillars basalt.
The lower part of the temple is red sandstone while the white gopuram is built with light bricks that reportedly float on water.