The Arctic Has Warmed Three Times More Quickly Than The Planet As A whole: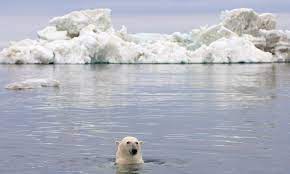 The Arctic has warmed three times more quickly than the planet as a whole, and faster than previously thought, a report warned.
Arctic sea ice looks set to be an early victim of rising temperatures and the chance of it disappearing entirely in summer is 10 times greater if Earth warms by 2 degrees Celsius above pre-industrial levels compared to 1.5 C, the goal set by the 2015 Paris Accord.
The alarming finding comes from the Arctic Monitoring and Assessment Programme (AMAP) in a report timed to coincide with a ministerial meeting of the Arctic Council in Reykjavik, which gathers countries bordering the region.
In less than half a century, from 1971 to 2019, the Arctic's average annual temperature rose by 3.1 C, compared to 1 C for the planet as a whole.
The Arctic Monitoring and Assessment Programme (AMAP) is one of six Working Groups of the Arctic Council.
Since its establishment in 1991, AMAP has produced various reports that detail the status of the Arctic with respect to climate and pollution issues.