Gene-edited Mustard: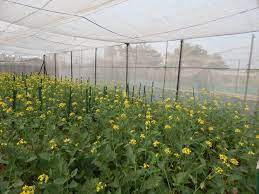 Indian scientists developed the first ever Gene edited low-pungent mustard that is pest and disease-resistant.
Gene-edited Mustard is India's most significant domestically-grown oilseed is rapeseed-mustard.
Mustard seeds have high levels of glucosinolates, a group of sulphur and nitrogen-containing compounds contributing to the characteristic pungency of their oil and meal.
Rapeseed meal is unpalatable to poultry and pigs, while having to be mixed with fodder grass and water for giving to cattle and buffaloes.
Besides reducing their feed intake, high glucosinolates are also known to cause goiter (swelling of neck) and internal organ abnormalities in livestock.
The dry seeds from the normal mustard (Brassica juncea) cultivated in India contain 120-130 parts per million (ppm or mg/kg) of glucosinolates.
This is as against the sub-30 ppm levels in canola seeds.