E-Courts Project: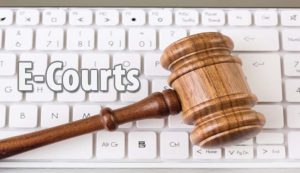 E-Courts Project is a mission mode project undertaken by the Department of Justice, Government of India.
The Chairperson of eCommittee is Dr Justice Dhananjaya Y Chandrachud, Judge, Supreme Court of India.
The eCommittee of the Supreme Court has been overseeing the implementation of the eCourts Project, conceptualized under the "National Policy and Action Plan for Implementation of Information and Communication Technology (ICT) in the Indian Judiciary-2005".
Phase III of the eCourts Project in India is rooted in two central facets—access and inclusion.
Phase III of the eCourts Project envisions a judicial system that is more easily accessible irrespective of geographical distances, efficient and equitable for every individual who seeks justice, makes more efficient use of human and other resources, and absorbs the latest technology for a positive environmental impact.