One District One Product Wall: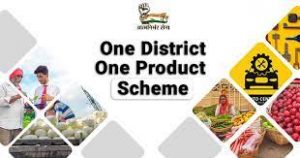 The One District One Product (ODOP) initiative has collaborated with the Deendayal Antyodaya Yojna – National Rural Livelihoods Mission (DAY-NRLM) to unveil the captivating 'ODOP Wall' in a bid to showcase India's diverse and exceptional craft heritage.
The One District One Product (ODOP) program is an initiative under the Department for Promotion of Industry and Internal Trade (DPIIT), Ministry of Commerce & Industry,
Under this Collaboration- products are being identified from all districts to be promoted for their unique qualities and cultural significance which include various handicrafts, handloom, and agricultural products that have been associated with the identity of their place of origin.
Objectives of ODOP: To help districts reach their full potential, foster economic and socio-cultural growth, and create employment opportunities, especially, in rural areas.
This initiative aims to turn every district in India, into an export hub through promotion of the product in which the district specialises.
The initiative plans to accomplish this by scaling manufacturing, supporting local businesses, finding potential foreign customers and so on, thus helping to achieve the 'Atmanirbhar Bharat' vision.