Kashmir stag : Increase In Number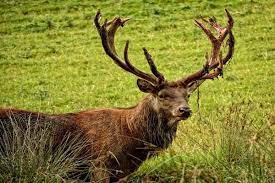 The unique Kashmir stag (Hangul) the state animal of Jammu and Kashmir, has again shown a marginal increase in its population.
Kashmir stag is also called Hangul which is a subspecies of Central Asian red deer endemic to Kashmir and surrounding areas.
It is found in dense riverine forests in the high valleys and mountains of Jammu and Kashmir and northern Himachal Pradesh.
In Kashmir, it is found primarily in the Dachigam National Park where it receives protection.
A small population has also been witnessed in Overa-Aru Wildlife Sanctuary in south Kashmir.
Conservation status

IUCN: Critically Endangered
CITES : Appendix I
Dachigam National Park:
The actual beauty of the park lies in the deep valleys, rocky outcrops, steep wooded slopes and rolling alpine pastures.
Being located in a mountainous area, Dachigam National Park faces a huge variation in altitude that ranges from 1600 m to 4200 m above sea level.
This variation in altitude categorises Dachigam National Park into two regions- the upper region and the lower region.
Flora: It is extremely rich in Wild Cherry, Pear, Plum, Peach, Apple, Apricot, Walnut, Chestnut, Oak and Willow etc.
Fauna: Hangul (Kashmir Stag), Musk deer, Brown Bear, Leopards, Jungle Cats, Himalayan black bear, and a few species of wild goats like the markhor and ibex.