Ghar Ghar Ration Yojna : Punjab Government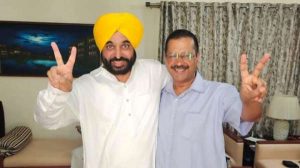 The new scheme was announced by the Punjab Government recently.
Highlights of the new Scheme:
It provides for home delivery of foodgrains to beneficiaries.
The government gives 5 kg wheat to every individual beneficiary per month at Rs 2 per kg.
The Centre will fund the scheme under the National Food Security Act (NFSA) 2013 for 1.43 lakh beneficiaries (comprising 36 lakh families).
The beneficiaries of the Atta-Dal Scheme of the state government, which is a tweaked version of the Centre's Food Security Act, will get ration at their doorsteps.
The scheme will be optional and all those who do not want to queue up outside the fair price shops or the ration depots can opt for it.
There are 1.54 crore individual beneficiaries (in 43 lakh families) of the Atta-Dal scheme in Punjab.