Har Ghar Nal Ka Jal Scheme: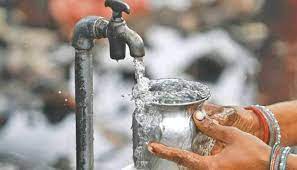 Officially launched in September 2016, Bihar's Har Ghar Nal Ka Jal (tap water in every home) scheme has so far provided drinking water to 152.16 lakh tap connections.
This is separate from the 8.44 lakh connections provided under the Central Government's Jal Jeevan Mission and 2.32 lakh connections through the National Rural Drinking Water Programme.
Essentially, Har Ghar Nal Ka Jal is a cluster of four state schemes under various categories that were launched to provide clean drinking water through taps in urban and rural homes.
The common goal: easy access to clean drinking water with the larger aim of improving public health across the board.
Under the scheme, drinking water is supplied for two hours each in the morning, afternoon and evening.
And to implement this, work is allotted to contractors by the Public Health Engineering Department (PHED), and Panchayati Raj and Urban Development departments, through Standard Bidding Documents (SBDs).