One Nation One Ration Card scheme: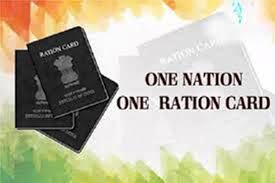 One Nation One Ration Card scheme, Punjab becomes 13th State to complete the One Nation One Ration Card scheme reform
The State has become eligible to mobilize additional financial resources of one thousand five hundred and sixteen crore rupees through Open Market Borrowings.
About the scheme:
One Nation One Ration Card (RC) will ensure all beneficiaries especially migrants can access PDS across the nation from any PDS shop of their own choice.
Benefits: no poor person is deprived of getting subsidized foodgrains under the food security scheme when they shift from one place to another. It also aims to remove the chance of anyone holding more than one ration card to avail benefits from different states.
Significance: This will provide freedom to the beneficiaries as they will not be tied to anyone PDS shop and reduce their dependence on shop owners and curtail instances of corruption.
A standard format for ration card has been prepared after taking into account the format used by different states.
For national portability, the state governments have been asked to issue the ration card in the bi-lingual format, wherein besides the local language, the other language could be Hindi or English.
The states have also been told to have a 10-digit standard ration card number, wherein the first two digits will be state code and the next two digits will be running ration card numbers.
Besides this, a set of another two digits will be appended with a ration card number to create unique member IDs for each member of the household in a ration card.