7th Eastern Economic Forum: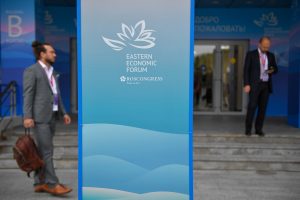 Russia hosted the 7th Eastern Economic Forum (EEF) at Vladivostok.
The forum is a platform for entrepreneurs to expand their businesses into Russia's Far East (RFE).
The EEF was established in 2015 to encourage foreign investments in the RFE.
The EEF displays the economic potential, suitable business conditions and investment opportunities in the region.
Agreements signed at the EEF increased from 217 in 2017 to 380 agreements in 2021, worth 3.6 trillion
The agreements focus on infrastructure, transportation projects, mineral excavations, construction, industry and agriculture.
China, South Korea, Japan and India are the Key Players in the region, where China is the biggest investor.
China who sees potential in promoting the Chinese Belt and Road Initiative (BRI) and the Polar Sea Route in the RFE.
China's investments in the region account for 90% of the total investments.