Global News Forum 2022: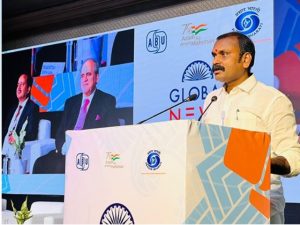 Union Minister of State Dr L Murugan delivers keynote address at Global News Forum 2022.
Global News Forum 2022 is the Asia-Pacific Broadcasting Union (ABU)'s flagship three days annual NEWS event hosting around 80 foreign participants from the field of Media & Journalism from different broadcasting organizations.
The topic of the Global News Forum 'Truth and Trust at times of Crisis'.
Asia-Pacific Broadcasting Union (ABU):
ABU was established in 1964 as a non-profit, non- governmental, non-political, professional association with mandate to assist the development of broadcasting organisations in the region currently Headquartered at Kuala Lumpur, Malaysia.
ABU promotes the collective interests of television and radio broadcasters as well as key industry players and also facilitate regional and international media cooperation for members.
It has over 253 members in over 67 countries in Pacific region, Asia (South east, North, South, Central), Middle East, Europe, North Africa and North America, reaching a potential audience of about 2 billion people.
Doordarshan (DD) & All India Radio (AIR) both are Full Members of ABU. All India Radio was a founding member of the ABU in the year 1964 while Doordarshan joined ABU in the year 1976.