Global Policy Framework To Protect Children Displaced Due To Climate Change: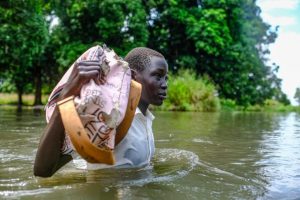 United Nations-backed agencies have issued guidelines to provide the first-ever global policy framework to protect children displaced due to climate change.
The Guiding Principles for Children on the Move in the Context of Climate Changecontain a set of nine principles that address the unique vulnerabilities of children who have been uprooted. The guidelines cover both internal as well cross-border migrations.
The landmark guidelines were launched by the International Organisation for Migration (IOM), the UN Children's Fund (UNICEF), Georgetown University and the United Nations University.
The Guiding Principles have been developed to safeguard the rights and well-being of children moving in the context of climate change, and are as follows:

Principle 1: Rights-based approach
Principle 2: Best interests of the child
Principle 3: Accountability
Principle 4: Awareness and participation in decision-making
Principle 5: Family unity
Principle 6: Protection, safety and security
Principle 7: Access to education, health care and social services
Principle 8: Non-discrimination
Principle 9: Nationality

These Guiding Principles are intended to be used by local and national governments, international organizations and civil society groups working with children on the move in the context of climate change.