Suspending An MP: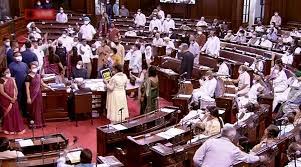 Nineteen opposition members were suspended from Rajya Sabha for a week on July 26, provoking Trinamool Congress leader Derek O'Brien to say that the government had turned Parliament into a "deep, dark chamber".
The general principle is that it is the role and duty of the Presiding Officer — Speaker of Lok Sabha and Chairman of Rajya Sabha — to maintain order so that the House can function smoothly.
In order to ensure that proceedings are conducted in the proper manner, the Speaker/ Chairman is empowered to force a Member to withdraw from the House.
The Chairman of Rajya Sabha is empowered under Rule Number 255 of its Rule Book to "direct any Member whose conduct is in his opinion grossly disorderly to withdraw immediately" from the House.
Under Rule 256, the Chairman may "name a Member who disregards the authority of the Chair or abuses the rules of the Council by persistently and wilfully obstructing" business.
In such a situation, the House may adopt a motion suspending the Member from the service of the House for a period not exceeding the remainder of the session.
The House may, by another motion, terminate the suspension.