Registration Of Political Parties: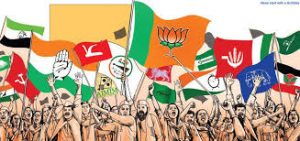 As per Association For Democratic Reforms (ADR)'s latest report:
The contribution reports of only 78 (3.39%) of the total 2,301 registered unrecognized political parties are available in the public domain for 2018-19.
The reports of only 82 such parties (3.56%) for 2017-18 are uploaded on the respective State Chief Electoral Officers' websites.
The number of these parties increased two-fold in the last 10 years, from 1,112 in 2010 to 2,301 in 2019.
Unrecognized political parties:
Either newly registered parties or those which have not secured enough percentage of votes in Assembly or General Elections to become a State party or those which have never contested in elections since being registered are considered unrecognized parties.
Such parties don't enjoy all the benefits extended to the recognized parties.
There are 2,360 political parties registered with the Election Commission of India and 2,301 or 97.50% of them are unrecognized.
Registration of political parties:
Registration of Political parties is governed by the provisions of Section 29A of the Representation of the People Act, 1951.
A party seeking registration under the said Section with the Election Commission has to submit an application to the Commission within a period of 30 days following the date of its formation as per guidelines prescribed by the Election Commission of India in the exercise of the powers conferred by Article 324 of the Commission of India and Section 29A of the Representation of the People Act, 1951.