Government Borrowing: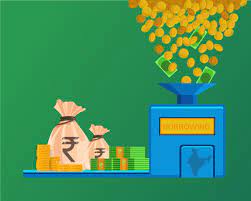 The government will borrow Rs 5.03 lakh crore in the second half of the current fiscal to fund the revenue gap for reviving the pandemic-hit economy.
During the first half, the government has raised Rs 7.02 lakh crore by issuing bonds.
The government raises money from the market to fund its fiscal deficit through dated securities and treasury bills.
The Budget has pegged fiscal deficit at 6.8 per cent for the current fiscal, down from 9.5 per cent of the GDP projected for FY21.
Borrowing is a loan taken by the government and falls under capital receipts in the Budget document.
Usually, the Government borrows through the issue of government securities called G-secs and Treasury Bills.
Bulk of the government's fiscal deficit comes from its interest obligation on past debt.
If the government resorts to larger borrowings, more than what it has projected, then its interest costs also go up risking higher fiscal deficit. That hurts government's finances.
Larger borrowing programme means that the public debt will go up and especially at a time when the GDP growth is subdued, it will lead to a higher debt-to-GDP ratio
Off-budget borrowings are loans that are taken not by the Centre directly, but by another public institution which borrows on the directions of the central government.
Such borrowings are used to fulfil the government's expenditure needs.
But since the liability of the loan is not formally on the Centre, the loan is not included in the national fiscal deficit.
This helps keep the country's fiscal deficit within acceptable limits.