A Glacial Break-In Uttarakhand :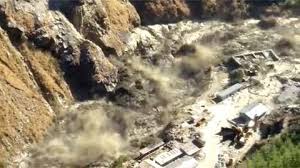 A glacial break in the Tapovan-Reni area of Chamoli District of Uttarakhand led to a massive Flash Flood in Dhauli Ganga and Alaknanda Rivers, damaging houses and the nearby Rishiganga power project.
It occurred in the river Rishi Ganga due to the falling of a portion of the Nanda Devi glacier in the river which exponentially increased the volume of water.
Rishiganga meets Dhauli Ganga near Raini. So Dhauli Ganga also got flooded.
Flash Floods:
These are sudden surges in water levels generally during or following an intense spell of rain.
These are highly localized events of short duration with a very high peak and usually have less than six hours between the occurrence of the rainfall and peak flood.
The flood situation worsens in the presence of choked drainage lines or encroachments obstructing the natural flow of water.
Causes:
It may be caused by heavy rain associated with a severe thunderstorm, hurricane, tropical storm, or meltwater from ice or snow flowing over ice sheets or snowfields.
Flash Floods can also occur due to Dam or Levee Breaks, and/or Mudslides (Debris Flow).
In areas on or near volcanoes, flash floods have also occurred after eruptions, when glaciers have been melted by the intense heat.
The intensity of the rainfall, the location and distribution of the rainfall, the land use and topography, vegetation types and growth/density, soil type, and soil water- content all determine just how quickly the Flash Flooding may occur, and influence where it may occur.
Glaciers
Glaciers are a bulk of ice moving under its weight.
It forms in areas where the amassing of snow goes beyond its ablation over many years.
They are generally seen in the snow-fields.
This largest freshwater basin covers around 10% of the land surface of the Earth.
According to the topography and the location of the glacier, it can be categorized as Mountain Glacier (Alpine Glaciers) or Continental Glacier (Ice Sheets).
The Continental Glacier moves outward in all directions whereas the Mountain Glacier moves from a higher to a lower altitude.