SITMEX-2021: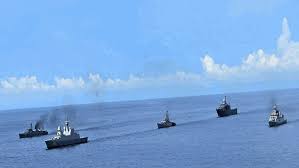 The third edition of the trilateral naval exercise Singapore-India-Thailand Maritime Exercise (SITMEX) has been conducted in the Andaman Sea of the Indian Ocean.
It is conducted annually, and was announced by India at Shangri-La Dialogue in June 2018.
The International Institute for Strategic Studies (IISS) Shangri-La Dialogue is Asia's premier defence summit. It was launched in 2002.
The first edition of SITMEX was hosted by the Indian Navy, and was conducted off Port Blair in September 2019.
Singapore hosted the second edition of the exercise in November 2020. The 2021 edition of the exercise is being hosted byThailand.
It includes a number of tactical training drills such as naval manoeuvres and surface warfare exercises.
It aims to strengthen mutual confidence and develop common understanding and procedures towards enhancing the overall maritime security in the Indo-Pacific region.
The exercise is in line with India's SAGAR (Security and Growth for All in the Region) vision.