Green Protection To Aravalli: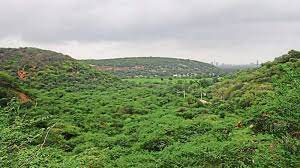 The Supreme Court of India extended Green Protection to forest land in Aravalli ranges.
The court's ruling will mean around 30,000 hectares across the Aravallis and Shivaliks in Haryana will be considered forest land.
The Supreme Court held that all land covered by the special orders issued under Section 4 of the Punjab Land Preservation Act (PLPA) in Haryana will be treated as forests and be entitled to protection under the 1980 Forest Conservation Act.
Such land covered under Section 4 can see no commercial activity or non-forest use without the consent of the central government.
It also stated that land covered by the special orders issued under Section 4 of PLPA have all the trappings of forest lands within the meaning of Section 2 of the Forest Act.
The court directed the state government to clear any non-forest activity from such land in three months and report compliance.
The bench considered a September 2018 judgment which held all land under PLPA could be treated as forest.
The recent verdict clarified that the previous judgment failed to closely examine the scheme of Section 4 of PLPA and its legal effect in relation to Section 2 of the Forest Act.
Aravalli Range:
They stretch for a distance of about 720 km from Himmatnagar in Gujarat to Delhi, spanning Haryana and Rajasthan.
The Aravallis date back to millions of years when a pre-Indian subcontinent collided with the mainland Eurasian Plate.
Carbon dating has shown that copper and other metals mined in the ranges date back to at least the 5th century BC.
The Aravallis of Northwestern India, one of the oldest fold mountains of the world, now form residual mountains with an elevation of 300m to 900m.
Guru Shikhar Peak on Mount Abu is the highest peak in the Aravalli Range (1,722 m).
It has been formed primarily of folded crust, when two convergent plates move towards each other by the process called orogenic movement.
The mountains are divided into two main ranges – the Sambhar Sirohi Range and the Sambhar Khetri Range in Rajasthan, where their extension is about 560 km.
The hidden limb of the Aravallis that extends from Delhi to Haridwar creates a divide between the drainage of rivers of the Ganga and the Indus.