Hello Naariyal : Coconut Development Board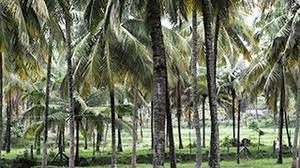 The Coconut Development Board (CDB) launched the 'Hello Naariyal' Friends of Coconut Trees (FoCT) call centre facility to help farmers with coconut harvesting and plant management operations.
Hello Naariyal is a call centre in Kerala that functions from the headquarters of the Board in Kochi.
The initiative will benefit coconut growers and extend its services to traditional coconut-growing States of Tamil Nadu, Andhra Pradesh and Karnataka through the respective unit offices of the Board.
The services will be available at block and gram panchayat levels in respective districts for carrying out activities related to coconut cultivation, including coconut tree climbing, plant protection, harvesting, seed nut procurement, and nursery management.
Coconut Development Board:
It is a statutory body established by the Government of India.
It was established for the integrated development of coconut production and utilisation in the country, with a focus on productivity increases and product diversification.
The board came into existence on January 12, 1981.
It functions under the administrative control of the Ministry of Agriculture and Farmers Welfare, Government of India.
Headquarters: Kochi in Kerala
It has regional offices in Bangalore in Karnataka, Chennai in Tamil Nadu, Guwahati in Assam, and Patna in Bihar.
Functions:

Adopting measures for the development of the coconut industry.
Imparting technical advice to those engaged in coconut cultivation and industry.
Providing financial and other assistance for the expansion of the area under coconut.