8th India-Oman Strategic Dialogue: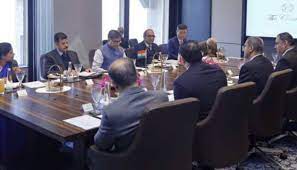 The 8th India-Oman strategic dialogue was held in India, where both countries have underlined the need to work collectively to fight the challenge of terrorism, terrorist propaganda, abuse of cyberspace and misuse of new and emerging technologies.
They agreed to hold the next round of the strategic dialogue in Oman in 2024.
Both sides highlighted the high priority accorded by the leadership of both countries to further enhance their strategic ties based on trust and mutual respect.
Discussions were held on a wide range of issues of mutual interest, including bilateral strategic and security cooperation, defence and regional security.
Both sides reiterated the importance of preserving Maritime Safety and Security in the region.
Both sides reiterated the importance of the strategic dialogue as an important mechanism of bilateral cooperation between India and Oman.