HS200 Solid Rocket Booster For Gaganyaan Mission: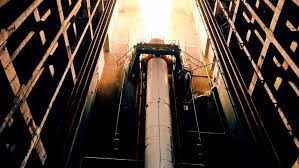 The Indian Space Research Organization (ISRO) has completed the static test of the human-rated solid rocket booster (HS200) for Gaganyaan programme.
HS200 Solid Rocket Booster:
The booster engine is part of the Geosynchronous Satellite Launch Vehicle MkIII (GSLV Mk III) rocket that will carry Indian astronauts to space.
The GSLV Mk-III rocket which will be used for the Gaganyaan mission will have two HS200 boosters which will supply the thrust for lift-off.
The HS200 is a 20-metre-long booster with a diameter of 3.2 metres and is the world's second largest operational booster using solid propellants.
The HS200 is the human-rated version of the S200 rocket booster of satellite launch vehicle GSLV Mk III, popularly known as LVM3.
Since Gaganyaan is a crewed mission, the GSLV Mk-III will have improvements to increase reliability and safety to meet the requirements of 'human rating.'
The S200 motor – the first stage of the LVM3 launch vehicle designed to deliver 4,000 kg satellites to geosynchronous transfer orbit – was configured as a strap-on rocket booster.
This full-duration test of the first stage of the launch vehicle marks a major milestone for the Gaganyaan programme.
Design and development of the HS200 booster was completed at the Vikram Sarabhai Space Centre (VSSC) in Kerala's Thiruvananthapuram, and propellant casting was completed at Sriharikota.
Out of the three propulsion stages of LVM3, the human-rated versions of the second-stage known as L110-G loaded with liquid propellant and the third stage C25-G with cryogenic propellant are in the final phase of qualification, including tests with static firing.