Gaganyaan And Human Ocean Mission: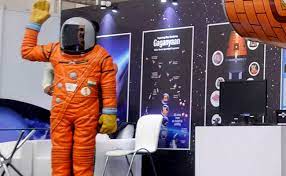 Union Space and Earth Sciences minister Jitendra Singh said India will achieve the unique distinction of simultaneously launching the first human space mission "Gaganyaan" as well as the first manned human ocean mission in 2023.
Trials for both the space and ocean manned missions have reached an advanced stage and the unique feat will be achieved, most likely, in the second half of 2023.
Sea trials of 500-metre rated shallow water version of the manned submersible are expected to take place in early part of 2023, followed by the MATSYA 6000, the deep-water manned submersible that will be ready for trials by the second quarter of 2024.
Similarly, for Gaganyaan, major missions like the test vehicle flight for the validation of crew escape system performance and the first uncrewed mission of Gaganyaan are scheduled in the second half of 2022.
That will be followed by the second uncrewed mission at the end of 2022 carrying "Vyommitra", a spacefaring human robot developed by ISRO, and finally the first crewed Gaganyaan mission in 2023.
The Union government will soon unveil the "Blue Economic Policy" and added that an estimated 40 million people will be employed by ocean-based industries by 2030.