India and the Maldives have signed a defence Line of Credit agreement worth USD 50 million: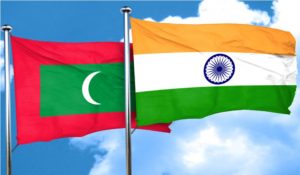 The agreement was signed during the visit by the External Affairs Minister of India to the Maldives.
Key Points
Defence Line of Credit:
It was signed pursuant to the request by the Government of Maldives in April 2013 for India's support and cooperation in enhancing the capability of the Maldives Defence Forces in maritime surveillance, and subsequent requests in October 2015 and March 2016.
It is seen as key to India's and Maldives' strategic interests, particularly given China's increasing footprint in the Indian Ocean Region.
Assistance to Build Dockyards:
A dockyard will be developed at the Uthuru Thila Falhu (UTF) Naval Base with Indian assistance, a few miles northwest of Male, which will strengthen the Maldivian defence capabilities.
The agreement is part of the defence action plan signed in 2016 by then Maldivian President Abdulla Yameen Abdul Gayoom during a visit to India.
Indicating deepening security cooperation, an agreement to develop, support and maintain a Maldives National Defence Force Coast Guard Harbour at Sifavaru was also signed.
India will also support the development of other infrastructure needed for the harbour, support the development of communications resources and radar services, and provide training.
Countering Terrorism:
Agreed to convene the first meeting of the Joint Working Group on Counter-Terrorism, countering Violent Extremism and De-radicalisation at the earliest.
Review of Infrastructure Projects:
A number of India-backed infrastructure projects including the National College of Policing and Law Enforcement Studies.
Collaboration at Multilateral Bodies:
Discussed collaboration at multilateral bodies like the General Assembly and Security Council of the United Nations Organisation.
The Maldivian side assured India of its support for permanent membership of India at the "expanded and reformed" UN Security Council.
India has also extended support for the candidature of the Maldives for the Presidency of the 76th session of the General Assembly.
Cooperation for Police Reforms:
Noted progress on institutionalising linkages between the police organisations to support collaboration and cooperation in training management and exchange of trainers and trainees.