Zero Carbon Emissions By 2070: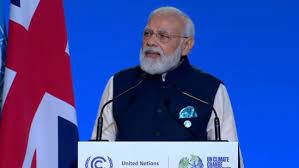 Achieving net zero carbon emissions by 2070, a target that Prime Minister Narendra Modi committed to in Glasgow in 2021, could boost India's economy by 4.7% above the projected baseline growth in GDP terms by 2036, worth a total of $371 billion.
This was stated by a report commissioned by the High-level Policy Commission on Getting Asia to Net Zero.
This could create as many as 15 million new jobs by 2047.
The Getting India to Net Zero report, as it is called, contains new research and modelling, and finds that policies to initiate the clean energy transition will be crucial in determining when India achieves net zero emissions and how much it could benefit from it.
Positive economic impacts are driven in part by an improved trade balance amounting to $236 billion due to reduced demand for fossil fuels.
Ending new coal as soon as possible by 2023 and transitioning from unabated coal power by 2040 would be particularly impactful to get India to net zero emissions sooner.
By reaching net zero by 2050, India could boost annual GDP by as much as 7.3% ($470 billion), and create nearly 20 million additional jobs by 2032, compared with current policies.
Net zero emissions by 2070 would require an economy-wide investment of $10.1 trillion from now; 2050 calls for $13.5 trillion, the research finds.