The Indian Air Force (IAF):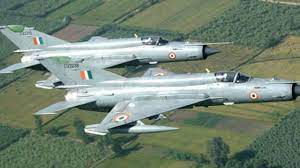 The Indian Air Force (IAF) have recently taken many steps towards ramping up the air defence ecosystem in order to get strategic advances over their enemy.
In a whopping ₹48,000 crore deal with state-run aerospace & defence company Hindustan Aeronautics Ltd (HAL), the Indian government ordered 83 Light Combat Aircraft (LCA) Tejas for the Indian Air Force in February this year.
In a landmark ₹22,000 deal inked by the Indian government with Airbus Defence, Spain the Indian Air Force is set to welcome Fifty Six (56) C-295 transport aircraft.
Under the deal, the IAF fleet will receive 16 aircraft in flyaway condition within the span of 48 months, while a consortium of the Airbus Defence and Space and Tata Advanced Systems Limited (TASL) will manufacture 40 planes in domestically within 10 years of signing the contract.
The Indian Air Force (IAF) is set to acquire 24 second-hand Mirage 2000 fighters, made by French manufacturer Dassault Aviation. The Indian government recently inked a deal to buy phased-out Mirage 2000 aircraft from the French Air Force.
Apart from fighter aircraft, the IAF is also set to acquire Akash missiles, manufactured by India's manufacturers of ammunitions and missile systems Bharat Dynamics Limited (BDL). The ₹499 crore contract was signed by the two in July 2021.
Under the ₹155 crore pact, the Indian Air Force is also scheduled to induct Counter Unmanned Aircraft Systems (CUAS) manufactured by Hyderabad-based Zen Technologies.
This will be carried out in a 12-month time frame, and the technology will improve the IAF's capabilities in the anti-drone space.