The Suryakiran: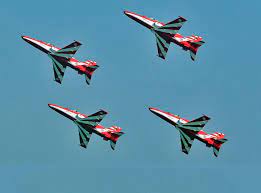 The Suryakiran aerobatic display team of the Indian Air Force (IAF), which has enthralled crowds across the country with their hair-raising maneuvers with their aircraft in red and white, has just completed 25 years.
One of the few nine aircraft display teams in the world and the only one in Asia, the team has carried out over 600 displays across the country and Southeast Asia.
"Suryakiran", which means 'rays of the sun' in Sanskrit, was raised on May 27, 1996, at the IAF airbase in Bidar, Karnataka, with six Kiran MkII trainer aircraft.
It carried out its first display on September 15, 1996, for the golden jubilee celebrations of the Air Force Administrative College in Coimbatore.
However, the team was disbanded in 2011 after Aero India show due to a shortage of training aircraft in the IAF and was resurrected in 2015 on advanced jet trainer Hawk Mk-132 aircraft.
This team, which has been the brand ambassador of the IAF, is also the 52 squadron of the IAF and is the youngest fighter squadron with the motto "Always the Best".