Indian Telegraph Right Of Way (Amendment) Rules, 2021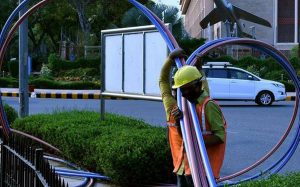 The Central Government has notified the Indian Telegraph Right of Way (Amendment) Rules, 2021.
The rule aims to incorporate the provisions related to nominal one-time compensation and uniform procedure for establishment of Overground Telegraph Line in the Indian Telegraph Right of Way Rules, 2016.
The amount of one-time compensation for establishment of an overground telegraph line will be a maximum one thousand rupees per kilometre.
Right of Way (RoW): These amendments will ease RoW related permission procedures for establishment and augmentation of digital communications infrastructure across the country.
Earlier, the RoW Rules had covered only underground Optical Fibre Cable (OFC) and mobile towers.
Fees: There will be no fee other than Administrative fee and Restoration charges for establishing, maintaining, transferring or shifting the underground and overground telegraph infrastructure.