World's Longest Passenger Train: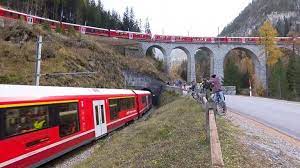 The world's longest passenger train was operationalized in Switzerland during the 175th anniversary of Swiss Railways.
The passenger train is 1.9 km-long, having 100 coaches.
It travelled 15.5 miles from the Albula Tunnel in Preda to the Landwasser Viaduct, at the outskirts of Filisur.
The journey ended at Bergün.
It travelled via the famous Albula-Bernina route a UNESCO World Heritage Site.
During the journey, the trained travelled via 22 tunnels and 48 bridges.