Indian Tent Turtles: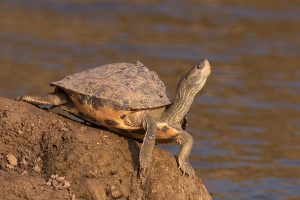 The Union Minister of Environment said in Parliament that there are no reports to indicate that the Indian tent turtle is on the verge of extinction due to illegal mining in the Narmada River.
The Indian tent turtle is listed in Schedule –I of the Wild Life (Protection) Act, 1972 and is thereby provided the highest degree of protection.
The males are smaller than the females in size and have longer and thicker tails.
It is a species of turtle that is native to India, Nepal and Bangladesh and it is quite similar to the Indian roofed turtle.
IUCN: Lower Risk/ least concern.