Non-Proliferation Treaty (NPT):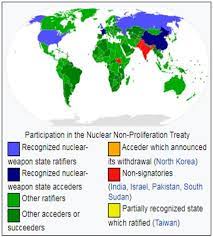 The Tenth Review Conference of the Parties to the Treaty on the Non-Proliferation of Nuclear Weapons (NPT) concluded last week in New York.
The NPT is a multilateral treaty aimed at limiting the spread of nuclear weapons including three elements:

Non-proliferation
Disarmament
Peaceful use of nuclear energy.

The treaty was signed in 1968 and entered into force in 1970.
The Treaty does not affect the right of state parties to develop, produce, and use nuclear energy for peaceful purposes.
India is one of the only five countries that did not sign the NPT.