Indian Bison: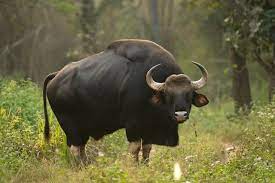 Sri Lanka recently asks India to translocate 6 Indian bisons or gaurs to reintroduce them in the island after three centuries.
Indian Bisons are one of the largest extant bovines. It is one of the largest species among the wild cattle, reaching a shoulder height of up to 220 cm.
They are found on the forested hills and grassy areas of south to south east Asia.
There are about 13,000 to 30,000 gaurs in the world with approximately 85% of the population present in India. It is also found in Burma and Thailand.
The Western Ghats in southern India constitute one of the most extensive extant strongholds of gaur, in particular in the Wayanad – Nagarhole – Mudumalai – Bandipur complex.
The first-ever population estimation exercise of the Indian gaur carried out in the Nilgiris Forest Division in February 2020 estimated around 2,000 Indian gaurs to be inhabiting the division.
The gaur is the State Animal of Goa and Bihar.
It is a protected species and included in Schedule I of the Wild Life Protection Act, 1972
Listed as "vulnerable" in the International Union for Conservation of Nature (IUCN) Red List.
It is listed in CITES Appendix I.