India's First CAR-T Cell Therapy Approved: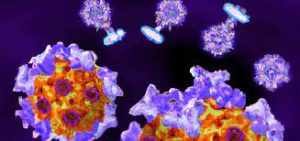 India's Drug Controller General (DCGI) has granted market authorization for CAR-T (Chimeric Antigen Receptor-T) cell therapy developed by ImmunoACT, a spin-off company from IIT-Bombay.
This ground-breaking treatment, known as NexCAR19, is now approved for use in cases of relapsed-refractory B-cell lymphoma and leukaemia.
The therapy's market authorization follows extensive scrutiny of data from phase 1 and 2 clinical trials by the Central Drugs Standards and Control Organisation (CDSCO).
CAR T-cell therapies are a major breakthrough in cancer treatment.
Unlike chemotherapy or immunotherapy which involve taking drugs, CAR T-cell therapies use a patient's own cells.
They are modified in the laboratory to activate T-cells and target tumor cells.
CAR T-cell therapy has been approved for leukaemias (cancers arising from the cells that produce white blood cells) and lymphomas (arising from the lymphatic system).
CAR T-cell therapies are even more specific than targeted agents and directly stimulate the patient's immune system to fight cancer, leading to greater clinical efficacy.