Midday Meal Scheme (PM Poshan Scheme):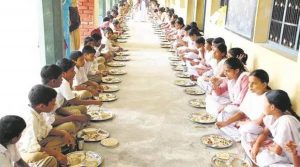 The Ministry of Finance has approved a hike of 9.6 % cooking cost per child under the Mid-Day Meal Scheme.
Since the last hike in early 2020, the cooking cost per child has been Rs 4.97 per child per day in primary classes (class I-V), and Rs 7.45 (class VI-VIII) in upper primary classes.
After the hikes come into effect, the allocation at the primary level and upper primary levels will be Rs 5.45 and Rs 8.17, respectively.
The Midday meal scheme (under the Ministry of Education) is a centrally sponsored scheme which was launched in 1995.
It is the world's largest school meal programme aimed to attain the goal of universalization of primary education.
Provides cooked meals to every child within the age group of six to fourteen years studying in classes I to VIII who enrolls and attends the school.
In 2021, it was renamed as 'Pradhan Mantri Poshan Shakti Nirman' scheme (PM Poshan Scheme) and it also covers students of balvatikas (children in the 3–5-year age group) from pre-primary classes.
Objective:

Address hunger and malnutrition, increase enrolment and attendance in school, improve socialisation among castes, provide employment at grassroot level especially to women.