India's First Hydrogen Fuel Cell (HFC) Bus: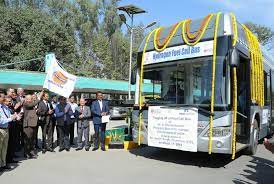 The Union Minister of State of Science & Technology launched India's first Hydrogen Fuel Cell (HFC) Bus.
A hydrogen fuel cell is an electrochemical device that converts hydrogen into electrical energy.
Fuel cells work in a similar manner to conventional batteries found in electric vehicles, but they do not run out of charge and don't need to be recharged with electricity.
They continue to produce electricity as long as there is a supply of hydrogen.
One of the most successful fuel cells uses the reaction of hydrogen with oxygen to form water.
They produce no tailpipe emissions (emission of gaseous and particulate pollutants) and only emit water vapour and warm air.
They are more efficient than internal combustion engine vehicles.
Hydrogen FCEVs have an advantage over battery powered EVs in terms of refuelling time, hydrogen can be refilled in a fuel cell vehicle in a matter of minutes, nearly as fast as an internal combustion engine can be refilled with fossil fuels.
The HFC bus has been developed by the Council of Scientific & Industrial Research (CSIR) and KPIT, an Indian Multinational Corporation.
The launch of this India's first truly indigenously developed HFC Bus is in tune with the National Hydrogen Energy Mission.
The fuel cell utilizes Hydrogen and Air to generate electricity to power the bus and the only effluent from the bus is water.
Thus, making it possibly the most environmentally friendly mode of transportation.
The high efficiency of fuel cell vehicles ensures lower operational costs per kilometre than diesel powered vehicles and can bring freight revolution in India.