India's Largest Floating Solar Power Project: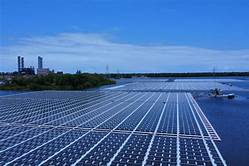 India's largest floating Solar Power Project is now fully operational.
NTPC declared Commercial Operation of the final part capacity of 20 MW out of 100 MW Ramagundam Floating Solar PV Project at Ramagundam, Telangana with effect from July 01, 2022.
With the operationalisation of 100-MW Solar PV Project at Ramagundam, total commercial operation of Floating Solar Capacity in Southern Region rose to 217 MW.
Earlier, NTPC declared Commercial operation of 92 MW Floating Solar at Kayamkulam (Kerala) and 25 MW Floating Solar at Simhadri (Andhra Pradesh).
The solar modules are placed on floaters manufactured with HDPE (High Density Polyethylene) material.