Noura al-Matroushi : UAE's First Woman Astronaut: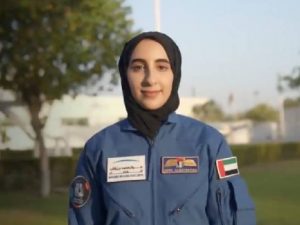 The United Arab Emirates named the next two astronauts for its space programme, including the country's first woman astronaut.
Noura al-Matroushi has been identified as the UAE's first woman astronaut, with her male counterpart as Mohammed al-Mulla.
The two will undergo training at NASA's Johnson Space Center in Houston, Texas.
If al-Matroushi ends up going on a mission, she could become the first Arab woman in space.
UAE space programme:
In February 2021, the UAE put its Amal, or Hope, satellite in orbit around Mars, a first for the Arab world.
In 2024, the country hopes to put an unmanned spacecraft on the moon.
The UAE also has set the ambitious goal of building a human colony on Mars by 2117.