Defence Corridors: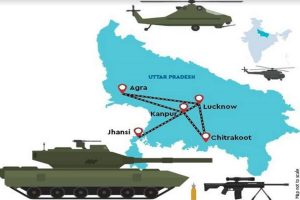 The Prime Minister visited the exhibition models of the Aligarh node of the upcoming Uttar Pradesh Defence Industrial Corridor.
It was announced by the Prime Minister while inaugurating the UP Investors Summit in Lucknow in 2018.
The government has established another Defence Industrial Corridor in Tamil Nadu.
Defence Industrial Corridor of UP:
It is an aspirational project that intends to reduce foreign dependency of the Indian Aerospace & Defence Sector.
It will have 6 nodes – Aligarh, Agra, Kanpur, Chitrakoot, Jhansi and Lucknow.
The Uttar Pradesh Expressways Industrial Development Authority (UPEIDA) is the nodal agency to execute this project in conjunction with various other state agencies.
It aims to bring up the state as one of the largest & advanced Defence manufacturing hubs and put it on the world map.
Features:
Single Window approvals and clearances to Defence and Aerospace (D&A) manufacturing units via Nivesh Mitra.
Nivesh Mitra Portal has been launched by the Government of Uttar Pradesh to ease the Ease of Doing Business in the state.
Labour Permits for D&A industry towards flexible employment conditions.
Simple Procedures and rationalised regulatory regime with easy reimbursement of incentives and subsidies.
Assured water supply and uninterrupted electricity.
Connectivity with 4-lane heavy-duty highway.
About Defence Corridors:
A defence corridor refers to a route or a path along which domestic productions of defence equipment by public sector, private sector and MSMEs are lined up to enhance the operational capability of the defence forces.
It will help in making the nation self-reliant in the field of defense production and promoting 'Make in India', which will reduce our imports and promote the export of these items to other countries.
It will provide a fillip to the defence manufacturing ecosystem through synergistic development of technologies, promote the growth of private domestic manufacturers, including MSMEs and Start-Ups.