Indus And Ganges River Dolphins :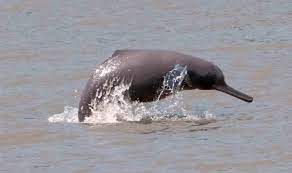 Detailed analysis of South Asian river dolphins has revealed in recent research that the Indus and Ganges River dolphins are not one, but two separate species.
Currently, Indus and Ganges River dolphins are classified as two subspecies under Platanista gangetica.
But according to a new study, this classification needs a revision. The study estimates that Indus and Ganges river dolphins may have diverged around 550,000 years ago.
The Indus and Ganges River dolphins are both classified as 'Endangered' species by the International Union for Conservation of Nature (IUCN).
The Ganges dolphin is a Schedule I animal under the Indian Wildlife (Protection) Act 1972, and has been included in Annexure – I of Convention on International Trade in Endangered Species (CITES).