INDUS-X Investors Meet: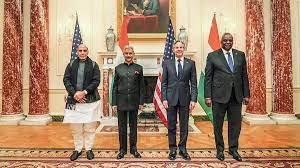 The inaugural INDUS-X Investors Meet, organized by Innovations for Defence Excellence (iDEX) and the US Department of Defence, preceded the 2+2 Indo-US Ministerial Dialogue.
During the event, the INDUS-X Educational Series (Gurukul) was launched.
The Gurukul initiative aims to guide innovators and startups within the defence ecosystems of both the US and India.
The INDUS-X initiative, launched in June 2023, serves as a defence innovation bridge, fostering strategic partnerships, joint challenges, innovation funds, academia engagement, and industry-startup connections between India and the US.
It is a major upcoming initiative under the Initiative on Critical and Emerging Technologies (iCET).