Awaous Motla : New Freshwater Fish Species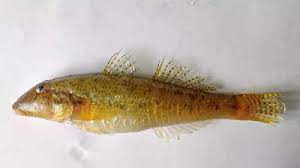 Researchers discover new freshwater fish species 'Awaous Motla' in Odisha's Mahanadi River.
A group of scientists has discovered that an edible freshwater fish, available in the markets of western Odisha, is actually an unregistered species.
Awaous Motla species belongs to the family 'Awaous' (Oxudercidae), thus named Awaous motla and 'motla' by fishermen.
The fish has a vibrant yellow-coloured body and a fleshy upper lip.
It was Can be consumed both fresh and dried.
It was discovered from the Mahanadi River.
It is one of the major east-flowing peninsular rivers in India.
The river originates from the Sihawa range of hills in the Dhamtari district of Chhattisgarh state.