INS Beas: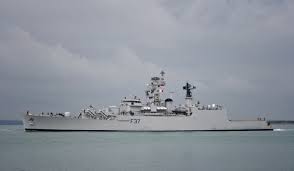 The defence ministry recently signed a ₹ 313 crore contract with Cochin Shipyard Limited (CSL) for the mid-life "upgrade and re-powering" of the frontline frigate INS Beas.
It is the first Brahmaputra Class Frigate to be re-powered from steam to diesel propulsion.
After completion of Mid Life Upgrade and Re-Powering in 2026, INS Beas will join the active fleet of the Indian Navy, with a modernised weapon suite and upgraded combat capability.
INS Beas (F37) is a Brahmaputra-class frigate of the Indian Navy.
It was built at the Garden Reach Shipbuilders and Engineers (GRSE), Kolkata.
It was commissioned on 11th July, 2005.
It is the second ship in the Indian Navy to bear the name.
The first was a Leopard-class frigate commissioned in 1960 and scrapped in 1992.
It is a versatile warship capable of a range of missions, including anti-aircraft, anti-submarine, and anti-ship warfare. It is also used for patrolling, surveillance, and providing security to India's maritime interests.
The design and construction of the ship are entirely Indian and are a modification of the Godavari-class frigate.
It has a displacement of about 3,850 tonnes.
The ship has a length of 126 metres (413 feet) and a beam width of 14.5 metres (48 feet).