Centre For Science And Environment Report On Natural Disasters: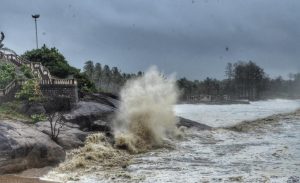 According to a recent CSE report, India saw natural disasters almost every day in the first 9 months of 2022.
Key highlights of the report:
India recorded extreme weather events on 242 of the 273 days from January 1 through September 30, 2022.
These include heatwaves, cold waves, cyclones, lightning, heavy rainfall, floods and landslides.
Most affected state: Madhya Pradesh
Deaths: highest in Himachal Pradesh (359), followed by Madhya Pradesh and Assam.
Lightning and storms were spread over 30 states and claimed 773 lives.
Heat waves claimed 45 lives.
Damage: Assam reported the highest number of damaged houses and animal deaths.
Worst hit Regions: central and north-western India reported the highest number of days (198 and 195 respectively) with extreme weather events.
In terms of human lives lost, central India topped the list with 887 deaths, followed by East and North East India (783 deaths).
Reasons: Global warming-induced changes in the atmospheric and water system around the world.