INS Hansa: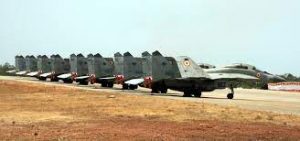 INS Hansa in Goa has become the very first Joint-User International Aerodrome in the South-Asia Pacific region to be augmented with the Required Navigation Performance (RNP) approach.
This RNP approach will provide near Category-I ILS accuracies, thereby aiding unhindered flying operations even when the aforementioned equipment is unserviceable or under maintenance.
INS Hansa is an Indian naval air station located near Dabolim in Goa.
It is India's biggest naval airbase and is home to the Indian Navy's premier air squadrons.
The base has a civil enclave that operates as Dabolim Airport.
This naval air station has grown to become a full-fledged airfield that handles domestic and international flights around the clock.