INS Sumedha: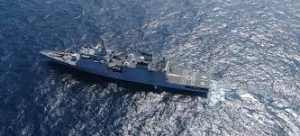 INS Sumedha made a port call at Walvis Bay, Namibia.
INS Sumedha in continuation with Indian Navy's mission-based deployment to West Africa and Atlantic made a port call at Walvis Bay, Namibia.
This port call is a manifestation of India's warm ties with Namibia, its commitment to enhance maritime security and demonstrate solidarity with friendly nations.
INS SUMEDHA:-
Built by: Goa Shipyard Limited.
INS Sumedha is an indigenously built Naval Offshore Patrol Vessel.
It is part of the Indian Navy's Eastern Fleet based at Visakhapatnam.
It is the third ship of the indigenous Naval Offshore Patrol Vessel (NOPV) Project to be inducted into the Indian Navy.
It is deployed for multiple roles independently and in support of Fleet Operations.
Its primary role is to undertake EEZ surveillance, anti-piracy patrols, fleet support operations, providing maritime security to offshore assets and carry out escort operations for high value assets.