Inter-Village Tea Garden Cleanliness Competition: Initiative By Local MLA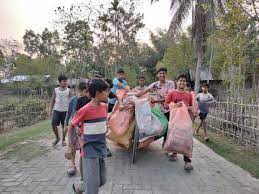 Around 148 villages and 24 tea gardens in Assam's Khumtai Assembly constituency are taking part in an "Inter-Village Tea Garden Cleanliness Competition."
Participating villages have to clear the plastic waste and improve cleanliness throughout the villages.
The winning gets a one-km concrete road and other cash prizes worth lakhs for developmental activities from the MLA fund.
Chief Minister of Assam will announce the winner.
The idea behind the competition is to promote rural tourism in the region, as tourist footfall is an essential part of promoting economic growth in the area.