Intergovernmental Negotiations Framework (IGN):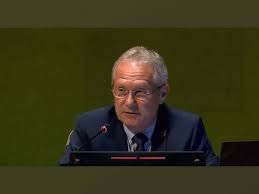 President of the 77th session of the United Nations General Assembly recently said the first segments of the UN Intergovernmental Negotiations Framework (IGN) meetings are now webcast, and a dedicated website on Security Council reform has been established.
Intergovernmental Negotiations Framework (IGN) is a group of nation-states working within the UN to further reform the United Nations Security Council (UNSC).
The IGN is composed of several different international organisations, namely:

The African Union;
The G4 nations (India, along with Brazil, Japan and Germany are pressing for a permanent seat in the reformed UNSC);
The Uniting for Consensus Group (UfC), also known as the "Coffee Club";
The L.69 Group of Developing Countries;
The Arab League; and
The Caribbean Community (CARICOM).

Each group represents a different set of positions vis-a-vis reforming the UNSC.
The group's conversations are considered "informal" in nature due to the lack of single text, and thus, UNGA rules of procedure don't apply.
But in 2015, a framework document was agreed when it comes to the reform, which can be the basis for future talks.