Anamalai Tiger Reserve : Siena Drone Photo Awards 2023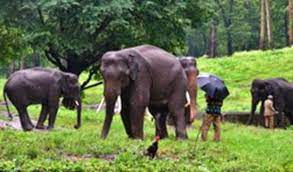 An elephant image shot at Anamalai Tiger Reserve (ATR) has emerged as the winner in the Wildlife category of the Siena Drone Photo Awards 2023, announced recently.
Anamalai Tiger Reserve is a protected area located at an altitude of 1400 m in the Anamalai Hills of Pollachi and Coimbatore District of Tamil Nadu.
It lies South of the Palakkad gap in the Southern Western Ghats.
It is surrounded by Parambikulum Tiger Reserve on the East, Chinnar Wildlife Sanctuary and Eravikulum National Park on the South Western side.
The reserve is also surrounded by Nenmara, Vazhachal, Malayattur and Marayur reserved forests of Kerala.
It was declared a Tiger reserve in the year 2007.
It supports diverse habitat types, Wet evergreen forests, semi-evergreen forests, moist deciduous, dry deciduous, dry thorn and shola forests.
Other unique habitats like montane grasslands, savannah and marshy grasslands are also present.
Around 2500 species of angiosperms are found in the Anamalai Tiger Reserve, with several species of Balsam, Crotalaria, Orchids and Kurinchi.
The reserve is rich in wild relatives of cultivated species like mango, jackfruit, wild plantain, ginger (Zingiber officinale), turmeric, pepper (Piper longum), cardamom etc.
The important wild animals of the reserve include: Tiger, Asiatic elephant, Sambar, Spotted deer, Barking deer, Jackal, Leopard, Jungle cat etc.
Siena Drone Photo Awards:
It is the most important worldwide competition in aerial photography and video.
It's a project of Siena Awards, dedicated to a different photographic genre deliberately separated from being compared to traditional photography.