Bucha Civilian Killings: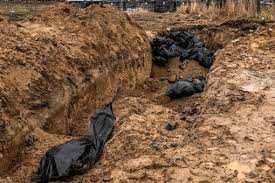 Ukraine President Volodymyr Zelenskyy accused Russian troops of committing "the most terrible war crimes" since World War II in an address to the United Nations Security Council.
The grimmest discoveries have been made in a Kyiv suburb called Bucha, a town located about 25 km to the northwest of the capital, which had an estimated population of around 36,000 before the invasion began.
More than 300 bodies have been found in the town that Zelenskyy visited, some with their hands bound, flesh burned, and shot in the back of the head.
War crimes are defined as "grave breaches" of the Geneva Conventions, agreements signed after World War II that laid down international humanitarian laws during war time. Deliberately targeting civilians amounts to a war crime.
The International Criminal Court (ICC) at The Hague has already opened an investigation into possible war crimes by Russia. Russia does not recognise the ICC and will likely not cooperate with the investigation.