The Intergovernmental Negotiations framework: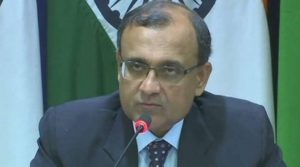 India's Permanent Representative to the UN, Ambassador T.S. Tirumurti, said that It has been nearly 13 years since the Intergovernmental Negotiations (IGN) started. The UN Security Council is finding itself unable to act effectively to address issues of international peace and security as it lacked inclusivity.
The Intergovernmental Negotiations framework (IGN) is a group of nation-states working within the United Nations to further reform of the United Nations Security Council (UNSC), a 15-member top organ of the world body.
Composition: The IGN is composed of several different international organizations, namely:
The African Union;
The G4 nations (India, along with Brazil, Japan and Germany are pressing for a permanent seat in the reformed UNSC);
The Uniting for Consensus Group (UfC), also known as the "Coffee Club";
The L.69 Group of Developing Countries;
The Arab League; and
The Caribbean Community (CARICOM).
Each group represents a different set of positions vis-a-vis reforming the United Nations Security Council.
In 2016, an "oral decision" was adopted by the United Nations General Assembly which approved of a declaration known as the "elements of convergence" which outlined the status of the consensus reached by the members of the IGN at that time.