International Fund For Agricultural Development: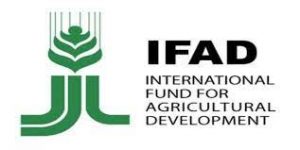 IFAD (International Fund for Agricultural Development) has committed to focus 30% of its climate finance to support nature-based solutions in rural small-scale agriculture by 2030.
Ahead of the IUCN (International Union for the Conservation of Nature) World Conservation Congress (WCC), it calls for more investment to protect biodiversity.
The IUCN convenes WCC every four years. The Congress brings together its various members, who vote on recommendations and set the agenda for the global conservation efforts.
IFAD is an international financial institution and specialized United Nations agency working in the field of poverty eradication in the rural areas of developing countries providing grants and loans with low interest for allied projects.
It works with marginalized and vulnerable groups such as farmers with small holdings, foresters, Pastoralists, Fishermen and small scale entrepreneurs by giving them disaster preparedness, access to weather information, technology transfer and social learning.
Formation: It was created in 1977, which is the outcome of the World Food Conference of 1974.
Headquarters: Rome, Italy
Members: It has 177 member countries.
India is also a member country.